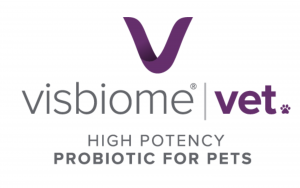 What do they do?  
ExeGi Pharma, LLC are the creators and manufacturers of Visbiome® Vet, a high potency probiotic for pets with 8 unique bacteria strains, available in a capsule and a new powder form. 
Visit their sustainability page to explore further:
Sustainability focused partnerships and certifications:
Our Assessment:
ExeGi Pharma has a clearly stated commitment to the environment. This company has tackled multiple areas of their operation to reduce their carbon footprint, including shipping, packaging, and energy. They have implemented 100% curbside recyclable boxes for shipping, as well as expanded their warehouse locations to reduce shipping associated emissions. Although it appears they use plastic bottles for their product container, they have eliminated the associated box and the package insert, effectively reducing shipping volume by 40%. The main office is powered by 100% renewable energy, and they have partnered with Carbonfund.org to offset their CO2 emissions. It is clear that ExeGi Pharma has a tangible commitment to sustainability and the planet.
Dedicated Sustainability Group/Person? No
Company size: Small (50 full-time equivalent employees or less)
Year added to guidebook: 2021