What do they do?
Land O' Lakes, Inc is a farmer-owned parent company that consists of subsidiaries that focus on animal nutrition and formulates as well as manufactures research-based diets and supplements for farm animals and exotics.
Visit their sustainability page to explore further: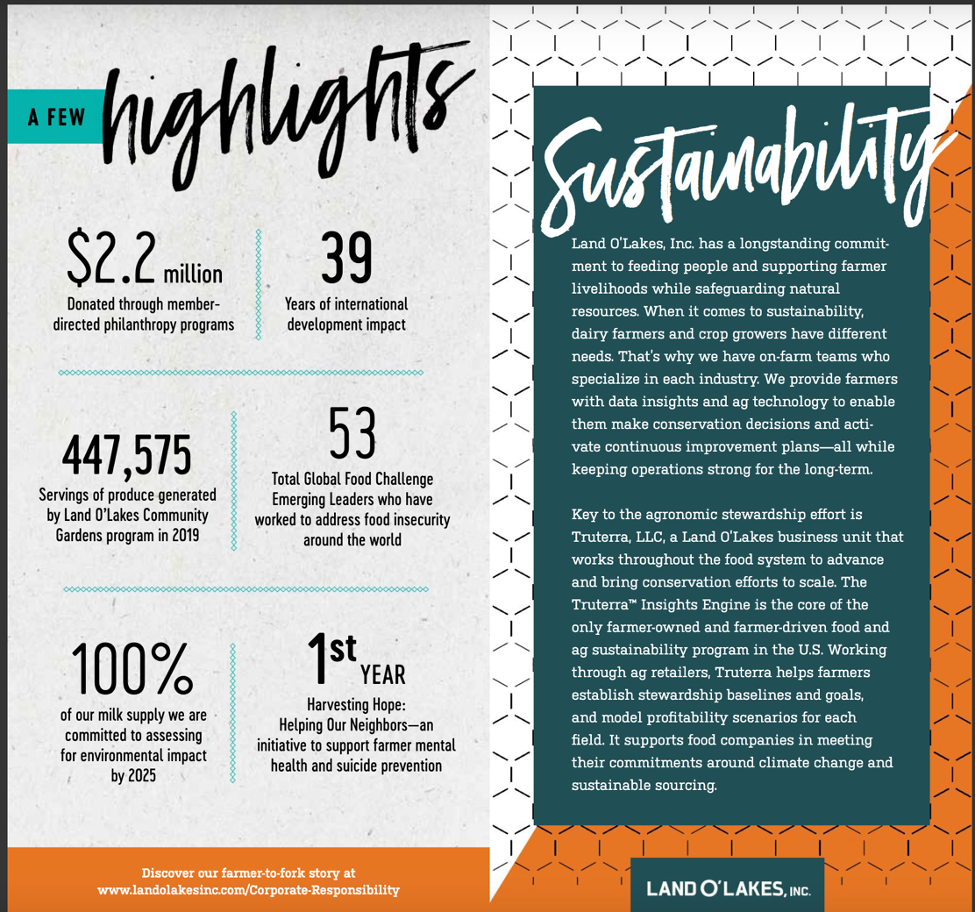 Sustainability focused partnerships and certifications:
Land O' Lakes, Inc has various subsidiaries including Purina Mills, PMI, and Mazuri. Another subsidiary, Truterra, is a company solely dedicated to improving sustainable practices for farms and agricultural businesses. Though this may have a large impact, the company's forward facing sustainability policies are lacking. The company has outlined a Dairy 2025 Commitment which calls for the company to work with 1,600 member dairy farms to complete an industry-leading on-farm sustainability assessment aligned with the U.S. Dairy Stewardship Commitment while maintaining universal compliance with the National Milk Producers Federation's National Dairy Farmers Assuring Responsible Management (FARM) program. This is in hopes to assess the environmental impact of 100% of their milk supply by 2025.
Dedicated Sustainability Group/Person: According to the company there are various players regarding the sustainability efforts for the company. The Director – Circular Economy role at Land O'Lakes that leads the strategic sustainability efforts from a corporate perspective. This role is supported by individuals across various business units and functional units.  These supporting roles include Environmental, Health and Safety team, Member Relations, Communications, Business Unit sustainability representatives.
Company Size: Large (over 250 full-time equivalent employees)